You are receiving this email from Messe Frankfurt (HK) Ltd.
If you cannot see the email properly, please click Online Version

,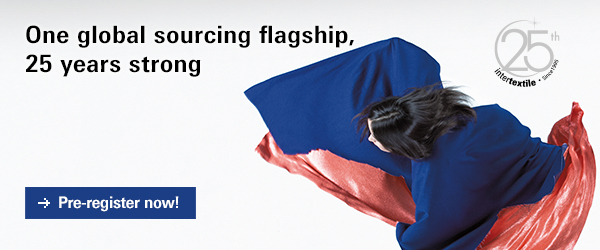 Preview Intertextile's Chinese exhibitors and overseas newcomers
Plan ahead for your trip to Intertextile Shanghai Apparel Fabrics this month.
Check out the latest information below, including extensive Chinese supplier lists, new exhibitors from a range of countries and regions, a pavilion update and a fringe event preview.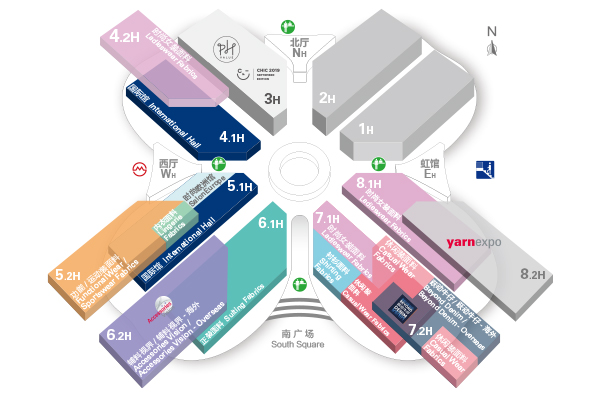 Source from Chinese suppliers for quality, efficiency and variety
While halls 4.1 and 5.1 will accommodate the International Halls, the remaining six halls will feature the best of China's fabric and accessory suppliers.
11 domestic pavilions, including Jiangsu Shengze (silk), Hemp Textile Association, Fujian Changle (lingerie), Fujian Shishi (casual wear and accessories), Haining (warp knit), Huzhou (silk / sportswear fabrics), Hangzhou Xiaoshan (spinning fabrics, jacquard), Wujiang Pingwang (casual wear and functional fabrics) and Junan Pavilion (denim) will feature a wide range of options, sorted by product groups.
Click below to preview domestic exhibitor lists, separated by product end-use.
Click the above hall overview to expand.
Highlighted domestic exhibitors at Intertextile
Shaanxi Gildland Service and Technology Co Ltd (5.2 – C111)
Anti-static, moisture absorption and quick-drying fabric
The fabric is blended with polyester fibre and cotton, combining the excellent properties of natural and synthetic fibres. Its softness, comfort, moisture absorption and quick-drying properties, and anti-pilling properties are better than conventional polyester fabrics and suitable for high-end apparel.
Anti-static coating PTFE/TPU film
This special process uses PTFE/TPU film coats, to create anti-static fabric that is waterproof, moisture-proof, windproof and warm. The fabric is extremely stable and sturdy. Therefore, fabrics made of PTFE/TPU are often used to make safety protective clothing in outdoor extreme cold environments.
Nantong DongYi Fiber Tech Co Ltd (5.2 – G57)
They promote innovative, environmentally-friendly fabrics.

| | |
| --- | --- |
| 1. | Bio-environmental environmental protection: recycled GRS certified yarn, DuPont bio-wool, DuPont Shulei, Sorona fabric, biomass membrane, PES membrane. The fabrics produced are in compliance with the recycling standards and follow sustainable development. |
| | |
| 2. | Special health care categories: graphene film, aerogel composite, far infrared film, continuous constant temperature, light absorption and warmth. Adopts leading microfibre nano-engineering technology to further improve the technology, functionality and added value of products. |
| | |
| 3. | Dynamic technology categories: temperature sensitive colour, temperature sensitive printing, colourful water printing, luminous coatings. New vision, new experience, and new trends reflecting the future of technological fabrics. |
| | |
| 4. | Fashion categories: metal texture, hole jacquard, colourful raincoat film, mirror PU, leading fashion trends. |
| | |
| 5. | Business and leisure categories: ultra-light composite, coated breathable fabric. Fully demonstrates the combination of leisure and outdoor, giving the fabric a certain functionality for business casual fabrics. |
Kunshan Sunshinetex New Material Co Ltd (5.2 – E56)
Graphene printed fabric: has the same functions and more comfortable feeling than traditional graphene PU transfer film, and can be widely applied to casual windbreaker jacket fabrics.
Temperature sensitive, photosensitive printed fabric: pattern and colour changes occur under temperature changes and UV. Can be applied to down jackets, effectively increasing the added value of the product.
Recycled fabric: made with recycled plastic bottles and used clothing.
Their clients include Balabala, Peace Bird, Pathfinder, Kaile Stone, Li Ning, Anta, Bosideng and more.
ZiRan Non-Woven Co Ltd (6.2 – J55)
THERMOLITE®T3 EcoMade cotton contains 45% recycled polyester fibre. Catering to different market needs, T3 insulation cotton provides consumers with three levels of fluffiness, which is lightweight and warm.
The product combines good compression, recovery performance and high water-repellent properties, keeping the wearer dry and comfortable even under harsh outdoor conditions.
In addition, THERMOLITE® T3 EcoMade insulation has excellent washability, prolonging the life of the garment, and reducing environmental impact through fewer replacements and less waste.
Main features: lightweight, good breathability, water repellent, washable, soft to the touch, good thermal insulation performance.
India Pavilion update
Ladieswear fabrics are always a major sourcing category at Intertextile, with high quality sourcing options available from a range of countries and regions.
Visit the India Pavilion to source unique "Made in India" fabrics and accessories, organised by Texprocil, with 18 members. Check out the pavilion preview below:
Don't miss: international newcomers
Digital Printing Micro Factory
Hangzhou Honghua Digital Technology Stock Co Ltd, hall 4.1 – E128 & E136
Hangzhou Honghua Digital Technology will host a digital printing micro factory onsite. Hangzhou Honghua has been focusing on the development of digital printing equipment for more than 20 years and will showcase a three-point plan for creating a smart digital printing factory.
High-speed digital printing
At the fair, they will showcase their flagship product - high-speed digital printing direct injection and VEGA3000S, equipped with 8 Kyocera nozzles, supporting 4- and, 6- color printing, daily output of 1500-4000m2.
Intelligent design
Using a design system powered by AI learning, the system can automatically generate large scale patterns, improving user-friendliness and efficiency, and reducing labour costs. Intelligent assisted design can modularise the software skills that designers need to use, and a large number of operations can be done with one click.
Intelligent production management systems
This digital factory system is jointly developed by Honghua Digital Mu Rui Technology and Alibaba Cloud ioT.
It is the first in China to specialise in printing equipment, fabric status, colour change, production delivery and other printing industry production conditions. The production plan can be automatically refined to each process and piece of equipment. Schedule management information software can provide short delivery schedules, room for changes, and batch delivery.
Supporting media
Fair facts
Date
25 – 27 September 2019 (09:00 – 18:00)
Venue
National Exhibition and Convention Center (Shanghai)
Admission
Free admission. For trade visitors only.