You are receiving this email from Messe Frankfurt (HK) Ltd.
If you cannot see the email properly, please click Online Version
,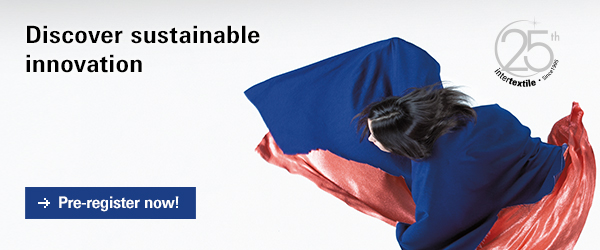 Source synthetic solutions and more at Functional Lab, hall 4.1
Major activewear and outdoor brands, such as adidas, Columbia Sportswear, Nike, Patagonia and more, have all been releasing news with a significant theme: what's new in their environmental efforts. Products with maximum functionality and minimal environmental impact are ideal for consumers with a highly active outdoor lifestyle.
While Functional Lab can be found in hall 4.1, even more domestic functional exhibitors will be located in hall 5.2.
To meet demand for eco-conscious performance fabrics, visit Functional Lab at the 25th anniversary of Intertextile Shanghai Apparel Fabrics – Autumn Edition.
This year, Functional Lab will also feature three pavilions. Preview the exhibitor lists here.
Spotlight: The LYCRA Company Pavilion
The LYCRA Company's legacy stretches back to the invention of LYCRA® fibre, the original elastane yarn, in 1958. Today, they focus on customers' products by developing differentiated innovations designed to meet the consumer's need for comfort and lasting performance apparel.
LYCRA® FitSense™ technology is one of the company's latest innovations: a proprietary water-based LYCRA® dispersion that offers garment designers the ability to achieve increased modulus and recovery power in specific areas on the body. As a result, garments can be lightweight while delivering power zones for targeted compression or support that consumers need to look, feel and be at their best.
In addition, they will share the updated Planet Agenda, which is a framework of the company's sustainability plan and launch LYCRA® EcoMade fibre, the first elastane fibre in the company's family of sustainable products.
Functional Lab exhibitor highlights
Aquafil SpA, Italy
All regenerated yarns by Aquafil are grouped under the ECONYL® brand. It's made by recovering nylon waste – such as fishing nets from the oceans and aquaculture, fabric scraps from mills and carpets destined for landfill – and turning it into virgin quality nylon yarn.
Brands like Prada are adopting ECONYL® in a commitment to sustainability.
Aquafil will showcase Dryarn®, the lightest microfibre in the world, a yarn that can enhance the performance of sportsmen and women while ensuring maximum comfort.
Dryarn® offers superior thermoregulation, breathability and speed of drying. It outperforms the majority of natural and synthetic fibres on the market in terms of breathability, because it allows water, moisture and perspiration to be wicked to the outside of the fabric and to evaporate rapidly, thus reducing unpleasant smells and the proliferation of bacteria.
Taekwang Industrial Co Ltd, Korea
Taekwang has steadily developed itself into an integrated textile manufacturing producer which covers a range of products.
They are focusing on the development of high-tech materials (carbon fibre and p-aramid) to create sustainable solutions for the future. Their main products this year are recycled 100% nylon & polyester fibres, and the launch of their new brand 'ACEPORA-ECO'.
In addition, they will introduce sustainable spun yarns blended with recycled polyester, and functional products with spandex, nylon, polyester and spun-yarn.
Nilit Ltd, Israel
Sensil® offers sustainable solutions with their EcoCare recycled products, made from pre-consumer waste, as well as other yarns that use less water and energy in their production process.
High-quality recycled nylon retains the properties of virgin fibres. The consistency of yarn properties beautifully maintained. Minimises waste, reduces energy consumption, and conserves valuable natural resources.
Kaneka Corporation, Japan
Source eco fur & functional fabrics made with modacrylic fibre (kanecaron & protex).
Kanecaron is a modified acrylic (modacrylic) fibre* developed by Kaneka in 1957. It is one of the leading synthetic fibres created using local technologies, and its exceptional qualities of a natural fur feel, superior colour and flame resistance has seen this material applied in an extensive range of daily uses, including artificial fur, curtains and drapes, bedding, children's soft toys, and hair pieces.
One of the highlighted features of Kanecaron is its natural fur-like feel. Soft and highly flexible, the Kanecaron fibre has been developed in a range of thicknesses, lengths, and cross-sections to provide an array of textures. The material is easily dyed, and looks very similar to real fur.
Unifi Textile (Suzhou) Co Ltd, China
Continuing their commitment to sustainable innovation, Unifi, global textile solutions provider and one of the world's leading innovators in manufacturing synthetic and recycled performance fibres, will launch three new product offerings in 2019.
Focused on consumer demands for recycled products, Unifi are introducing REPREVE® nylon staple fibre, TruFlexx™ sustainable, engineered stretch fibre made with REPREVE® and TruClean™ chemical-free anti-static fibre.
Supporting media

Fair facts
Date
25 – 27 September 2019 (09:00 – 18:00)
Venue
National Exhibition and Convention Center (Shanghai)
Admission
Free admission. For trade visitors only.