You are receiving this email from Messe Frankfurt (HK) Ltd.
If you cannot see the email properly, please click Online Version

,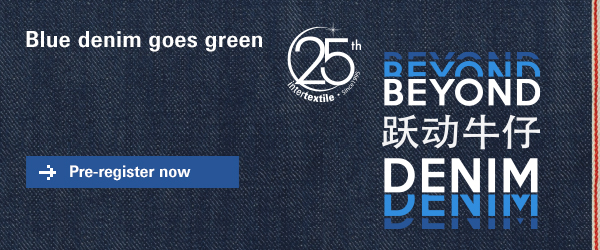 Sustainable sourcing at Beyond Denim (hall 7.2)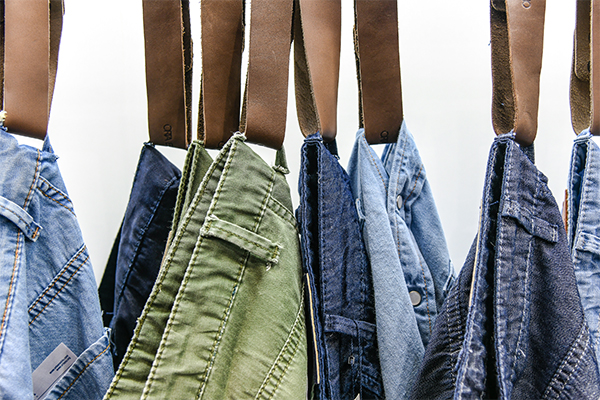 Check out the Beyond Denim exhibitor list
As more and more consumers become aware of denim's potential environmental impacts, trust Intertextile's sustainable denim suppliers to ensure traceability in your supply chain.
Don't miss Beyond Denim, the dedicated product zone to high quality denim products, at the 25th Autumn Edition of Intertextile Shanghai Apparel Fabrics.
Both domestic and overseas denim suppliers will be located in hall 7.2. Preview the exhibitor lists now:
Exhibitor highlights
new! Atlas Denim Tekstil Sanayi Ve Tic A S, Turkey
One of the biggest and most technological denim fabric producers from Turkey will offer highly commercial products: high quality, eco-friendly denim fabric. This includes cotton and polyester with elastane. Their fabric onz range is between 4.5 - 13 onz.
Visit their website
new! Bossa Ticaret Ve Sanayi Isletmeleri TAS, Turkey
Bossa's new Autumn / Winter 2020-21 collections include:
BE SMART: Brand new woven fabric technology "Techknit" with a knitted look, thermolite and wool fibres, soft and colourful waves of velvety corduroy denims.
MOONLIGHT: All black and anthracite shade and tones with different constructions, leather and metallic coatings, Ultranero with intense black shade.
HERITAGE: XPLAY, bi-str, warp stretch articles, 100% sustainable denim, comfortable and stretchy, old school jeans, coated articles.
SLEEP WELL: Eversoft, second skin high elastic fabrics, Soft touch bi-str articles, dreamy denim, 100% sustainable denim.
TRUEBLUE: Clean, flat look, overdyes, chintz coated denims.
Visit their website
Indigo Textile (Pvt) Limited, Pakistan
4-D EXPANDED BY INDIGO
For the bold ones who live on the edge and push through the limits – 4D eXpanded provides stretch like never before. This incredible technology starts the era of limitless denim utility – denim for ALL… all walks, all talks, all cities & all occasions!
Visit their website
Orta Anadolu Tic Va San Isl TAS, Turkey
Craftsmanship is reawakened and nature reevaluated, in ORTA's HALYS collection. HALYS is a natural outcome of the tradition that lies in ORTA's roots, from the heart of Anatolia. Clay is a natural, environmentally-friendly material.
The Red River, also known as the Halys River, is the longest river in Turkey and passes through Cappadoccia, where ORTA's Kayseri factory is located. The red clay from the bed of the river has provided the basis for a flourishing ceramics industry. ORTA's HALYS collection, inspired by this local artisanal material, combines clay with denim to enhance:

| | |
| --- | --- |
| • | Raw texture of clay on denim with different colour stories |
| • | Playful functionality with an earthly appeal |
| • | Rich clay coating on flat or clay on bio indigo for an eco-modern look |

Visit their website
Rajby Textiles (Pvt) Limited, Pakistan
Rajby's Green Mystery concept is a C2C Gold certified line of denim fabrics.
Their Green Mystery product line has considerably reduced environmental impact, by using a Gold standard material along with optimum reutilisation of materials. They use renewable energy and are taking measures to reduce their carbon footprint.
Visit their website
More than sourcing
Visit the Beyond Denim display zone for Autumn / Winter 2020 denim trend insight. The four themes include:
SERENITY: eco-friendly casual denim such as recycled cotton, corduroy, hemp and Tencel, washed with environmentally-friendly dyes.
RE-MADE: contemporary nostalgia that upcycles past fashions, using recycled fabrics.
CRAFT: inspired by folklore and craftsmanship, this trend looks as denim with rich colour palettes. Treatments include enzyme washes, tie-dye, needle work and applique.
NEW AGE: high-tech denim coatings for edge and street fashion. Finishings include holographic, reflective, PU coatings, neon and metallic effects.
Additional buyer services at the fair
We know that overseas buyers sometimes find it difficult to search for the right suppliers and the language barrier hinders their sourcing in China. Our Business Matching Service helps you overcome all of this, and will provide you with a hassle-free sourcing experience in our fair.
Join the Business Matching Service and you will receive:

| | |
| --- | --- |
| • | Free interpreter service (English / Mandarin) |
| • | A list of reliable suppliers according to your sourcing requirements |
| • | A schedule of individual pre-arranged meetings with your chosen suppliers |
Fair facts
Date
25 – 27 September 2019 (09:00 – 18:00)
Venue
National Exhibition and Convention Center (Shanghai)
Admission
Free admission. For trade visitors only.