You are receiving this email from Messe Frankfurt (HK) Ltd.
If you cannot see the email properly, please click Online Version

,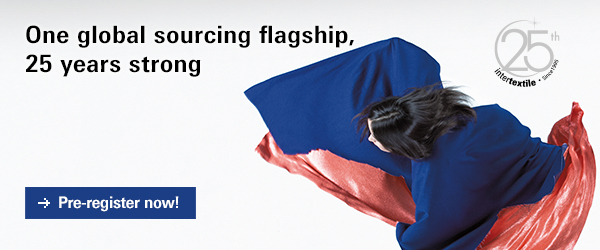 Find finishing pieces at Accessories Vision
Categorised product zones at Intertextile Apparel
Visit

Accessories Vision

in hall 6.2 to connect with around 600 suppliers from around the world! What's more, extensive sourcing options from leading European accessory suppliers can be found in

SalonEurope

(hall 5.1).
Big names like 3M, Avery Dennison, Ideal Fastener and Shimada Shoji are ready to return, along with key members of Button & Garment Accessories Industry Chamber and newcomers like HSD Zipper, Mainetti SpA and Wing Hing Buttons.
Wide range of offerings
3M China Ltd, China
3M Thinsulate™ is a 100% recycled warming alternative to down. It maintains excellent thermal insulation and is durable, light weight, and fluffy. The product has passed the global recycling standard GRS certification, meets the Bluesign environmental standard requirements, and has obtained the OEKO-TEX Standard 100 certificate.
Visit their website
Framis Italia HK Ltd, Hong Kong
Combining their NoSo® Bonding Technology with Eurojersey's fabrics, Framis Italia have been able to create innovative sports bras that guarantee comfort, support and freedom in movement .
Visit their website
Mabo SpA, Italy
Their buttons are produced sustainably, to the standards defined by the Greenpeace Detox campaign, eliminating all hazardous substances. Their products and processes are free from:

| | |
| --- | --- |
| • | APEO |
| • | Brominated and chlorinated flame retardants |
| • | Azo dyes |
| • | Organotin compounds |
| • | PFCs – Perfluorocarbon / Polyfluorinated Compounds |
| • | Phtalates |
| • | Chlorinated solvents |
| • | Chlorophenols |
| • | Short chain chlorinated paraffins |
| • | Chromium VI (CrVI) |

Visit their website
(new!) Mainetti SpA, Italy
Green Packaging Solutions: M-film is the symbol for sustainability. Their sustainable solutions include:

1)
M-film Air

| | |
| --- | --- |
| • | An advanced LDPE-based material developed by Mainetti |
| • | Allows thinner polybags without compromising performance |

2)
M-film Land

| | |
| --- | --- |
| • | Organic additives are included in the products |
| • | Enhances the rate of biodegradation in a landfill environment |

3)
M-film Earth

| | |
| --- | --- |
| • | Compostable resin-based materials derived from renewable resources |
| • | Complies with the American and European standards (i.e. ASTM D6400 and EN13432) |

Visit their website
(new!) Mitchell Co Ltd, Taiwan China
They will feature tag pins. They are focused on finding ways to reduce plastic waste in the environment, and have developed tag pins with PLA (Polylactic acid), which is biodegradable.
Visit their website
(new!) Wing Hing Buttons and Buckles Ltd, Hong Kong
They will feature different design effects on small button faces. These include gradient effect, tarnish effect, velvet face, luminous, reflective, thermochromic and photochromic.
They also offer UV sensitive buttons; in normal indoor environments, the product will appear white, but when exposed to sunlight or ultraviolet light, the product will gradually change colour. As the light intensity increases, the colour gradually deepens. The colour change is more varied, and the effect can be applied to various products. This design is especially suitable for outdoor clothing.
Visit their website
Additional buyer services at the fair
We know that overseas buyers sometimes find it difficult to search for the right suppliers and the language barrier hinders their sourcing in China. Our Business Matching Service helps you overcome all of this, and will provide you with a hassle-free sourcing experience in our fair.
Join the Business Matching Service and you will receive:

| | |
| --- | --- |
| • | Free interpreter service (English / Mandarin) |
| • | A list of reliable suppliers according to your sourcing requirements |
| • | A schedule of individual pre-arranged meetings with your chosen suppliers |
Fair facts
Date
25 – 27 September 2019 (09:00 – 18:00)
Venue
National Exhibition and Convention Center (Shanghai)
Admission
Free admission. For trade visitors only.